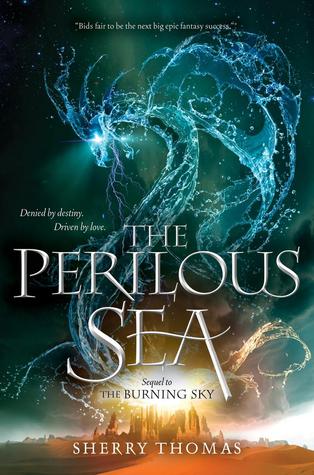 After spending the summer away from each other, Titus and Iolanthe (still disguised as Archer Fairfax) are eager to return to Eton College to resume their training to fight the Bane. Although no longer bound to Titus by a blood oath, Iolanthe is more committed than ever to fulfilling her destiny—especially with the agents of Atlantis quickly closing in.

Soon after arriving at school, though, Titus makes a shocking discovery, one that makes him question everything he previously believed about their mission. Faced with this devastating realization, Iolanthe is forced to come to terms with her new role, while Titus must choose between following his mother's prophecies—and forging a divergent path to an unknowable future
First off, the cover looks really cool. I thought it was just water, but it's actually a monster or er dragon.. love love it.
This is the sequel to THE BURNING SKY. Actually, I haven't read the first book. I got a little lost at first, but I soon find my way to the story. Though if you would like to enjoy this book, read the first one first. But I still tried to read this book, who wouldn't want Atlantis or anything related to magic and dragons, right?
The book is written between Titus and Iolanthe's POV, alternating between the present and seven weeks in the future. This may get you confused at first, but after awhile you'll be fully absorbed into the story. I guess this is a great idea though, because you get to see their present and their future, and what they would do just to change the path of their destinies.
Thomas writes in an interesting and intriguing way. Each chapter leaves you breathless asking for more. I guess this book highlighted the romance of the characters without sacrificing the adventure theme of the story. Don't worry, no love triangles, just two greatly compatible people.
Titus and Iolanthe are really strong characters with room for development. The chemistry pushes off the pages. Each of them brings the best out of the other. I haven't met characters which are more likeable than them. I especially enjoyed their banter, those are witty conversations.
Another good thing, is that we have been given background stories of the secondary characters. An in-depth knowledge about them would definitely help us love them more.
Unfortunately, although there are revelations, it's still hard to grasp this world that the author is building. Don't get me wrong, this is a great story with a great theme and setting. But maybe, the author should have given us a heads-up of how this two dimensions of mages and nonmages works. And since, the characters travel a lot in a different world than ours, why not give us some visual or map of their journey.
The book ends in a BIG cliffhanger. Albeit, questions have been answered, new set of questions resurface.
Fast pace and a certified page-turner, this book is one of the best fantasy series today. I think Thomas is a fantasy genius. And the third book will definitely be epic.
THE PERILOUS SEA is full of magic, intrigue, spells, dragons, twist, puzzles and surprises. It will give you a roller-coaster ride of emotions. If you're in for all of that, grab this book now :)
I highly recommend this book… would be anticipating for the next one
*This ARC copy is provided by Harper Collins International.
Thank you Ms. Megan Traynor