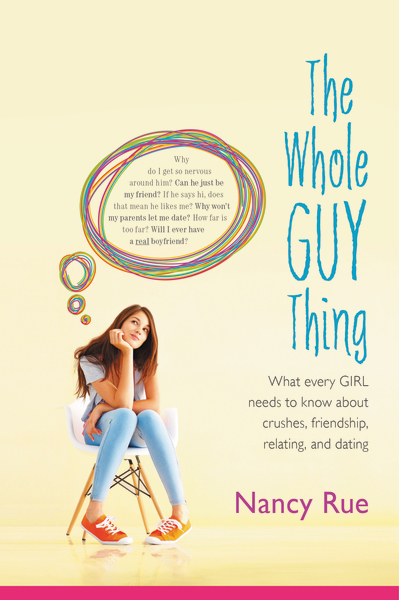 The Whole Guy Thing
by
Nancy Rue
Reading level: Ages 13 and up
Paperback: 176 pages
Publisher: Zonderkidz (April 23, 2012)
Language: English
ISBN-10: 0310726840
ISBN-13: 978-0310726845
It's time to deal with all those guy questions in your life.
Guys can make life complex. Sometimes they're nice, sometimes they're not, and when they're cute they sometimes leave our brains in a jumble. On top of seeing them every day, we have to figure out how to interact with the male gender, and exactly what to do with any romantic feelings. It's no wonder girls have so many questions about guys!

Well, here are answers to many of the issues and wonderings real girls like you have. The Whole Guy Thing explores how you can deal with boys now and in the future, as well as create self-respect that is rooted in God's love. Featuring relationship topics, real feedback from guys, and even advice on how to talk to your parents about dating rules and guy-girl interactions, this may be the book you've been waiting for.
The Whole Guy Thing is an advice book for young girls concerning boys. It talks about not just the feelings girls feel with the opposite sex but also with behavior and understanding about guys.
It was a fast-read, with evaluation quiz that would determine what we have learned in the chapters. I had fun answering these questions. And true to the author's word, it didn't made me feel like I was being accused or something, rather it make me realize and understand what level of understanding I had not just with myself but as well as how I react with others around me especially boys.
Nancy Rue knew her thing well. This book comes just like talking to her one on one. The words were easy to understand and the whole book sounded conversational, making teen readers confide in it wholly and truthfully.
It also comes with advises on how to talk things like these with our parents, who knew and experienced everything that's going on with us. We just have to do the right thing, and talk to them in a way that they'd see themselves in us.
As a teen myself, I appreciate how the author used Twitter-like phrases which pretty sums up the whole book. It makes reading easier, especially when the long paragraphs look tiring. :) And not only that, she also gives us tiny advices like "What the Guy's Says" or "God on Guys".
The Whole Guy Thing is not just a book about crushes, dates and anything concerning guys, it's a book that will make us realize that even if it's a girl-guy business, there's still our parents and God who will guide us in this complicated yet enjoying stage in life- our teen life.
This book comes with lessons that will surely leave a print in our minds and hearts. Highly Recommended!..:)
View all my reviews